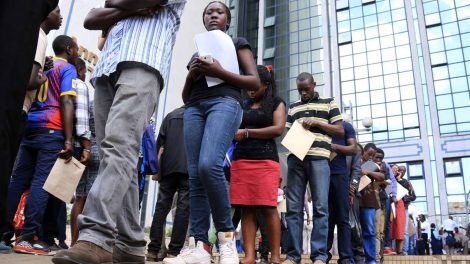 President Uhuru Kenyatta has explained why he did not give his assent to the Higher Education Loans Board (Amendment) Bill 2020, which proposed lower interest for graduate loan repayments.
In a memorandum to the National Assembly, Uhuru explained that he rejected the bill on the basis of a clause which proposed the restructuring of loan repayment, which would have seen many beneficiaries default on their loans.
He noted that loan repayment after securing employment, as proposed in the bill, would have been used as wiggle room by some graduates.
File photo of students queuing to submit their HELB details at Anniversary Towers Nairobi
Case
"Delaying the start date for student loan repayment will therefore reduce the amount recovered by HELB as well as the number of students funded by HELB each year.
"This is because graduates who do not have formal employment or those who are self-employed are not likely to report that they are generating income and are likely to fail or delay repayment of their loans. ", we read in part in the memorandum.
Furthermore, Uhuru noted that many students benefit from HELB and the bill should allow the institution to operate on its own without depending on financial interventions from the government.
Consequently, President Kenyatta recommended that parliament remove the clause before the bill is returned to him for consideration.
"Given that loan recovery is a major part of resource mobilization for HELB and contributes enormously to the funding of students in need on an annual basis, it is imperative that the status quo be maintained to avoid an overreliance on funding. regard to the Treasury.
"In view of the above, I recommend that section 2 of the bill be deleted."
However, National Assembly Speaker Justin Muturi after receiving Uhuru's communication hinted that graduates will have to wait longer to qualify for lower interest rates as Parliament is on recess. indefinite.
"In accordance with the provisions of Rule 42(2) of the Standing Orders, I have instructed the Clerk of the National Assembly to distribute the Message of HE the President to all the deputies, together with his reservations on the three bills.
"The house being on Sine die between sessions, the three bills cannot be reconsidered and therefore lapse at the end of the Twelfth Parliament in accordance with the provisions of Standing Order 141.' Muturi said in his message to MPs.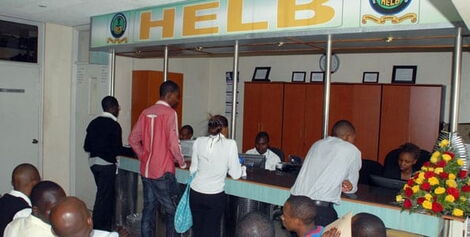 TUSEN waiting for service at the Helb offices.
Case