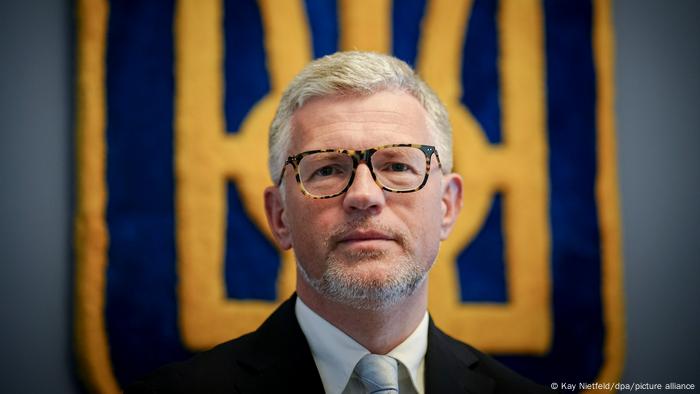 So-called referendums on whether certain occupied or partially occupied Ukrainian regions should be formally annexed by Russia started Friday.
Citizens in Ukraine's Luhansk, Kherson and partly Russian-controlled regions of Zaporizhzhya and Donetsk have reportedly cast their votes amid the ongoing war.
In a video on his Telegram channel, separatist leader Denis Pushilin in the Russian-recognized Donetsk People's Republic said: "This referendum is decisive, it is the breakthrough to a new reality."
The Kremlin-orchestrated ballots, widely labeled a sham by Ukraine and the West, are seen as a step toward annexation of the territories by Russia.
The vote, asking residents if they want their regions to be part of Russia, will almost certainly go in the direction of Moscow. That would give Moscow the pretext to claim that attempts by Ukrainian forces to regain control are attacks on Russia itself.
The so-called referendums, set to take place in five days, are following President Vladimir Putin's orders for a partial mobilization, which could add as many as 300,000 Russian conscripts to the fray.
Moscow plans to quickly integrate Ukraine's occupied regions into the Russian Federation, said Interfax Kremlin spokesman Dmitry Peskov.
When asked how long the recognition process would take, Peskov said he was "confident it will be soon enough".
Here's an overview of other news in or about the war in Ukraine on September 23.
EU's Michel calls for Russia's suspension from UN Security Council
European Council President Charles Michel said Russia should be suspended from the United Nations Security Council.
"If a permanent member of the Security Council launches an unprovoked and unjustified war, a war that is condemned by the General Assembly, the suspension of that member from the Security Council should, in my opinion, be automatic," Michel said, referring to the Russian war. on Ukraine.
"The use of the right of veto should be an exception, but it has become, as we have seen, the rule. Reform is needed and urgent," Michel said in a speech to the United Nations General Assembly.
The five permanent members of the UN Security Council — China, the United States, France, Britain and Russia — have veto powers over resolutions.
No Nuclear Threat, Says Russian Deputy Foreign Minister
Russian Deputy Foreign Minister Sergei Ryabkov said on Friday that Moscow "does not threaten anyone with nuclear weapons".
"The criteria for its use are described in Russian military doctrine," he added.
Russian officials, including ex-president Dmitry Medvedev, have said that if Ukrainian regions are annexed by Russia, any attack on them by Ukrainian forces will be considered an attack on Russia.
According to Russian nuclear doctrine, this could allow the use of nuclear weapons if Moscow deems it an "existential threat".
However, Ryabkov said Russia was not seeking an "open confrontation" with the United States or NATO's military alliance and did not want the situation to escalate further.
"We hope that the Biden administration is also aware of the danger of an uncontrolled escalation of the conflict in Ukraine," he told Russian media.
More than 400 bodies found in Izium cemetery
Ukrainian officials say 436 bodies have been exhumed from a mass grave in the eastern city of Izium, 30 of them with visible signs of torture, Kharkov region's governor Oleh Synyehubov and the region's police chief Volodymyr Timoshko told reporters. Friday in Izium.
The officials added that three more graves have been identified in areas recaptured by Ukrainian forces in a counter-offensive earlier this month.
Ukraine says it will recapture village in Donetsk region
Ukrainian troops on Friday said they had recaptured the village of Yatskivka in eastern Donetsk, according to Oleksiy Gromov, a senior army official.
Yatskivka is located on the eastern bank of the strategic Oskil River, which Ukrainian troops crossed after retaking parts of the territory in the neighboring region of Kharkiv.
Ukrainian forces had also "gained control of positions south of Bakhmut," Gromov added.
Bakhmut, a major city with a pre-war population of 70,000 people, is also in the Donetsk region and has been the subject of Russian attacks for months.
Meanwhile, Ukrainian officials say a civilian was killed in a Russian drone strike on the southern port city of Odessa.
An Iranian-made "Shahed-136" drone was also shot down over sea by Ukrainian air defense forces, the Ukrainian military said in a statement.
Oleksii Makeiev appointed Ukraine's new ambassador to Germany
Ukrainian President Volodymyr Zelenskyy appointed Oleksii Makeiev as Ukraine's new ambassador to Germany, succeeding Andriy Melnyk in the role. Makeiev worked for many years as a political director at the Ministry of Foreign Affairs in Kiev.
Melnyk was recalled from office in mid-July by Ukrainian President Volodymyr Zelenskyy and will leave Germany on October 14 to take up a position at the Ukrainian Foreign Ministry.
Melnyk often criticized the German government for its attitude towards Russia, even before the invasion of Moscow began. Since then, he has repeatedly demanded more weapons from Germany to help Ukraine fend off Russian attacks.
Former Ukrainian Ambassador to Germany Andriy Melnyk was often outspoken
Ukrainian saboteurs 'handled' in Zaporizhzhya, says Russia-installed administrator
The Russian-installed administrator of the Moscow-controlled part of Ukraine's Zaporizhzhya region said on Friday that two cars carrying "Ukrainian saboteurs" had entered the area, RIA Novosti and TASS news agencies reported.
The region has stepped up entry patrols as part of measures surrounding the so-called referendum taking place in the region on whether to join Russia.
US envoy: Russia forcibly deported up to 1.6 million Ukrainians
A US envoy said on Friday that Russia has forcibly deported hundreds of thousands of Ukrainians.
Ambassador Michele Taylor told the Geneva-based Human Rights Council: "We urge the commissioners to continue investigating the growing evidence of Russia's filtration operations, forced deportations and disappearances," citing a commission of inquiry in Ukraine.
"Numerous sources indicate that the Russian authorities interrogated, detained and forcibly deported between 900,000 and 1.6 million Ukrainian citizens," she said.
UN: 'War crimes' committed in Ukraine
The United Nations said Friday that its investigators have found evidence of "war crimes" in Ukraine following Russia's invasion of Ukraine.
The Commission of Inquiry has so far focused its investigations on four regions: Kiev, Kharkov, Sumy and Chernihiv.
Belarus not allowed to follow Russia in calls for mobilization
Belarusian leader Alexander Lukashenko, who declared himself the winner of a contentious 2020 election, said on Friday that he did not intend to launch a mobilization after Russia's announcement that hundreds of thousands of reservists had been called up to be sent to Ukraine.
"The mobilization is in Russia," state media quoted Lukashenko as saying. "There will be no mobilization."
"We will only fight if we have to defend our home, our country," he added.
Belarus, one of Russia's closest allies, also borders Ukraine and was used as a staging area for Russian troops and for Russian missile launches.
Ericsson said it offers only limited technical support in Russia
Swedish telecommunications giant Ericsson said the company only provides software and technical support to Russian customers. Clarifying its position, the company said it has not sold any equipment to mobile operators in Russia since Moscow invaded Ukraine on February 24.
Ericsson responded to speculation in Swedish media that the telecommunications company had continued to export equipment to Russia. Shares in Ericsson fell 4.6% in morning trading after the reports.
The Stockholm-based company shut down its operations in Russia in April. In August, it announced it would leave the country entirely in the coming months.
Finland observes continued traffic increase as Russians flee mobilization orders
Finland said traffic across its southeastern border with Russia continues to increase, the border guard told Reuters news agency.
According to the guard, the number of Russians entering Finland on Thursday more than doubled compared to the previous week's count for the same day.
Finland is considering blocking most Russians from entering the country as traffic coming from its neighboring country will be "stepped up" on Thursday.
More Ukraine-related content on TUSEN
Several government ministers have indicated that under certain conditions, Germany is willing to receive Russians fleeing "partial military mobilization". To read more about this, click here.
You can read more about Russia's motivation for holding the so-called referendums, in the Luhansk, Kherson, Zaporizhzhya and Donetsk regions, by clicking here.
ab,jsi/ar (TUSEN, dpa, Reuters, TUSEN, EFE)
.