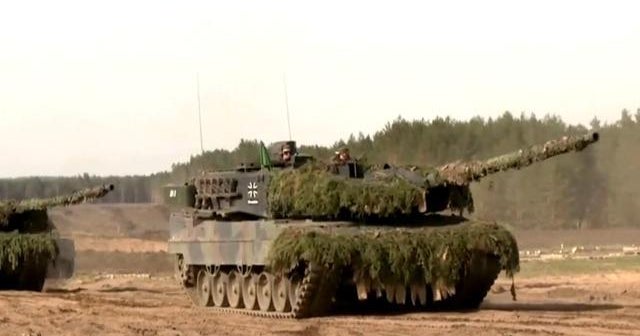 NORTH TEXAS (TUSEN) – Some major US military firepower is headed for Ukraine. President Biden announced today that the US and other European leaders have agreed to send some of the most advanced refueling systems in the world to aid Ukrainian soldiers as they continue a fierce battle to drive Russia from their borders.
Experts say now is the right time, and for the right reason.
"They all ask me all the time, 'What is Biden saying? What is Biden saying?'" says Southlake's Olena Kim.
Kim was born in Ukraine but has spent the past 20 years in North Texas and still has family there. "Biden gives hope, great hope for the Ukrainian people…"
And Kim hopes the extra firepower will help liberate her homeland and protect her Ukrainian-born but North Texas-raised son, who is now a soldier fighting in the war.
President Biden says 31 of the M-1 Abrams will eventually be sent to Ukraine.
"The help saves many lives," says Kim, "Many lives. I was too worried… too much worried. For now, I know they are not alone…[they] get support."
And experts say the aid sends a message to the people of Ukraine and to the rest of the world.
"If we get there with Ukraine, and we help Ukraine, maybe President Xi in China would think twice before launching a campaign against Taiwan," said David Kramer, executive director of the George W. Bush Institute. "I think it is absolutely correct to say that this is not about the freedom of Ukraine."
Kramer, a former professor and author, is also an expert on Russian relations – and on Vladimir Putin in particular. In his role at the Bush Institute, he recently published policy recommendations on Ukraine, urging US lawmakers to increase military support, maintain or even tighten sanctions against Putin's regime, and prepare to continue that support for some time to come. He calls the situation a national security issue for the US
"If he were able to remove the government, the duly elected government in Ukraine, maybe he would be emboldened and try to act against Latvia or Estonia, or against Lithuania or Poland," Kramer explained. "Those countries are members of NATO… which means an attack on one is an attack on all and that is why it is extremely important for us to help Ukraine so that Putin is stopped in Ukraine and then never again threatens another country Again, this is about our freedom as well as about the Ukrainians."
And it's a warning that Kim repeats.
"Today he takes Ukraine, tomorrow he takes Alaska, you know? So the American people should be aware of it too… so the people of Ukraine [are] not only fight for their country, [they're] fight for the entire civilization in the world, to protect the world from a terrorist country."
.