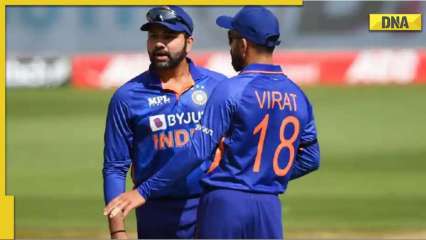 It seems Indian selectors have decided to form a new T20I team with Hardik Pandya as the captain of the squad as star players like Rohit Sharma, Virat Kohli and KL Rahul have not played for Team India in T20I since the lackluster show from the team at T20. 2022 World Cup in Australia.
India head coach Rahul Dravid has dropped hints that Pandya would lead T20I side in the upcoming three match series at home against New Zealand, meaning regular captain Rohit Sharma will also not be included in the squad for this one series. But Dravid is cautious and he has yet to make any announcement about Pandya's elevation as the regular captain for T20Is.
Dravid also preferred not to comment on the introduction of a shared captaincy in Indian cricket, saying it will be decided by the selectors.
"Not that I know of (India are taking a shared captaincy). That's a question you should ask the selectors, but as of now I don't think so," Dravid said at the pre-match press conference ahead of the 3rd ODI between India and New Zealand.
For his part, Rohit Sharma has repeatedly insisted that he wants to play in T20Is. However, Dravid said Rohit and Kohli have not been picked for T20I after the World Cup as the team management wants to manage the workload of these players and keep them fit for the 50-over ODI World Cup scheduled in India in October.
"There are certain priorities we have to give to certain white-ball tournaments," Dravid said. "So the priority after last year's T20 World Cup has been these six games and Virat has played all these six games and he will get a bit of a break along with Rohit," added Dravid, referring to the recent ODIs against Sri Lanka and New York. Zealand.
It should be noted that India will not play many T20Is in 2023 after the New Zealand series. The management is currently focused on two major international tournaments – Asia Cup and World Cup played in the 50-over format.
However, Dravid's recent comments contradict the statements he made against Sri Lanka during the ODI series. At that time, Dravid had noticed that India is looking for a new squad for next year's T20I World Cup in the West Indies.
"For us, of course, only 3-4 guys from the last semi-final (in the T20 World Cup) we played against England, in the XI (against Sri Lanka). We are slightly in a different phase of looking at the next cycle of T20 so our team is a little bit younger team and for us it's a fantastic experience to play against the quality of Sri Lanka the good thing is there's a lot of focus on the ODI World Cup and World Test Championship so the T20s give us a chance to try these guys out," he had said.
.