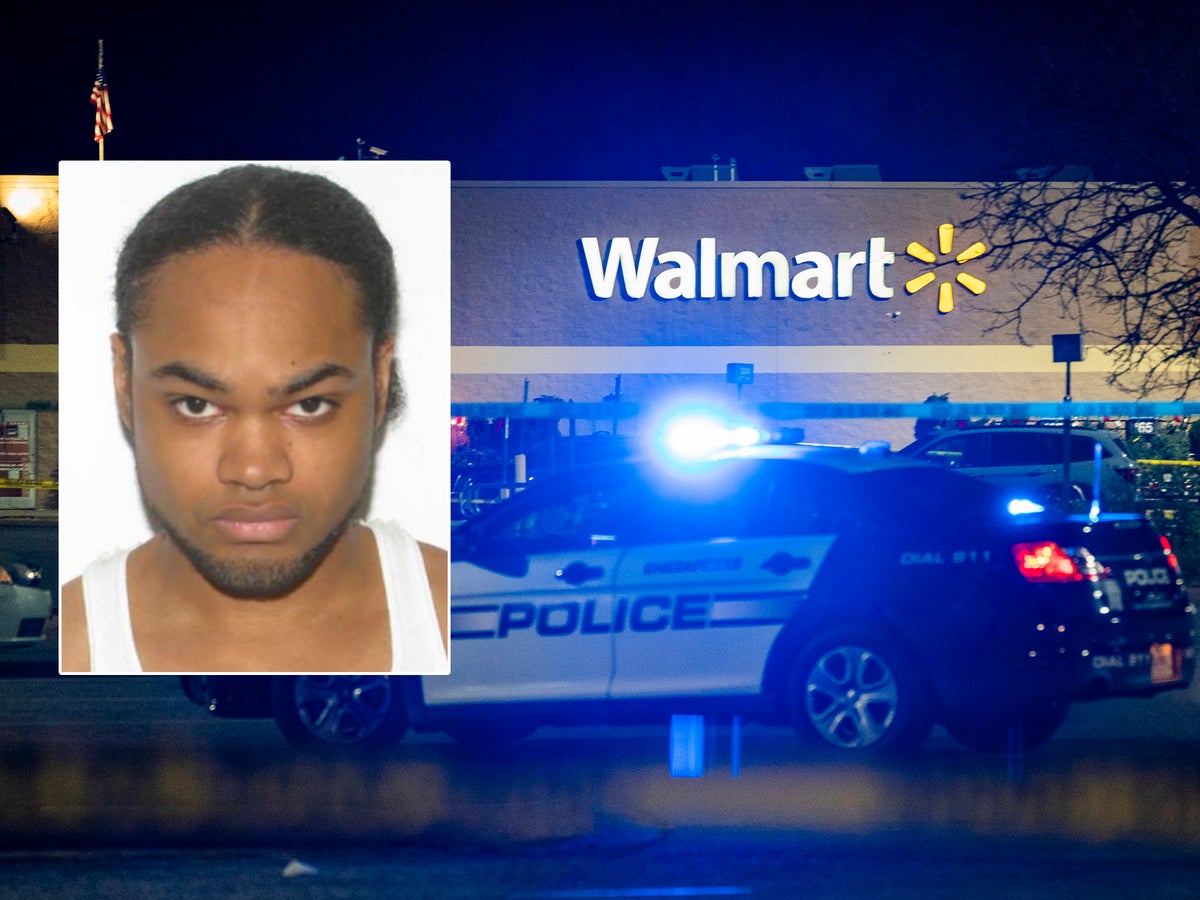 Police spokesperson provides update on Walmart shooting
A chilling "manifesto" has been found on the cellphone of Walmart gunman Andre Bing where he laid out his motive for the mass shooting in Virginia that killed six colleagues and injured at least four other victims ahead of Thanksgiving.
Witnesses described how the horrific events unfolded late Tuesday when Bing opened fire in the employee's break room as investigators tried to determine a motive.
A law enforcement source told local media that Bing was "upset" about a recent change in employment status and complained that he was being "harassed" by colleagues. A former colleague also said he was paranoid about the government watching him and didn't like being recorded. A witness claims she saw him attacking certain people during the attack.
Details of a possible motive come as relatives of a 23-year-old Walmart employee reveal he is fighting for his life on a ventilator after being shot in the attack.
Blake Williams wasn't even supposed to work that night, but was doing a shift for a colleague. His cousin said he can't breathe on his own now.
1669318246
Chesapeake Walmart attack sparks calls for workplace violence prevention
Far too often, employees don't know how to recognize warning signs, and more importantly, they don't know how to report suspicious behavior or feel empowered to do so, according to workplace safety and human resources experts.
Oliver O'ConnellNovember 24, 2022 7:30 PM
1669316446
Chilling 'manifesto' found on Walmart gunman Andre Bing's phone
A source told the police 10 on your side that Bing, 31, described in the document that he was "upset" about a recent change in employment status and complained that he was being "harassed" by colleagues.
Officials have not confirmed the manifesto's existence and have yet to reveal the motive for Tuesday night's massacre.
Oliver O'ConnellNovember 24, 2022 7:00 PM
1669315546
Biden protests "sick" semi-automatic weapons and unenforced red flag laws
President Joe Biden denounced the proliferation of semi-automatic weapons and the failure of some parts of the country to enforce so-called "red flag laws" designed to prevent people from posing a danger to themselves and others.
Mr Biden made the comments on Thanksgiving in Nantucket after delivering pumpkin pies to firefighters.
Oliver O'ConnellNovember 24, 2022 6:45 PM
1669314646
Analysis: Walmart has faced calls to ban gun sales for years. Will Chesapeake change that?
Because of its sheer size, with thousands of stores across the US, the nation's largest retailer is at the center of the retail arms debate and a well-known site for US violence. Alex Woodward reports.
Oliver O'ConnellNovember 24, 2022 6:30 PM
1669314162
Schutter seemed to be targeting certain people, says a witness
The Walmart supervisor who shot and killed six colleagues in Virginia appeared to have targeted people and shot some victims after they had already been hit and appeared dead, said a witness who was present when the shooting began.
Jessica Wilczewski said workers had gathered in a store break room late Tuesday to begin their night shift when team leader Andre Bing entered and opened fire with a handgun. While another witness has described Bing as shooting wildly, Wilczewski said she saw him shoot at certain people.
"The way he acted — he went hunting," Wilczewski told The The US Express News on Thursday. "The way he looked at people's faces and the way he did what he did, he picked people out."
She said she saw him shooting at people already on the ground.
"What I do know is that he made sure whoever he wanted dead was dead," she said. "He went back and shot dead bodies that were already dead. To be sure."
Wilczewski said she had only worked at the store for five days and didn't know who Bing got along with or had problems with. She said the fact that she was a new employee may have been why he spared her.
She said that after the shooting started, a colleague sitting next to her pulled her under the table to hide. She said at one point Bing told her to get out from under the table. But when he saw who she was, he told her, "Jessie, go home." She said she got up slowly and then ran out of the store.
Oliver O'ConnellNov 24, 2022 6:22 PM
1669312846
Analysis: Why the hell can't America put an end to this deadly gun violence?
You're out of words and you're out of emotions, writes Andrew Buncombe.
But in addition to sympathy for the victims, there are two other emotions that bubble up and don't go away. And they are anger and indignation.
Oliver O'ConnellNovember 24, 2022 6:00 PM
1669311946
Biden urges 'more action' on gun reform
President Joe Biden has urged "more action" to curb the proliferation of guns in the US after a gunman shot and killed six people at a Walmart in Virginia on Tuesday evening.
Oliver O'ConnellNovember 24, 2022 5:45 PM
1669311046
These are the six victims of the Chesapeake Walmart shooting
Andre Bing, team leader of the night shift, walked into the break room where 14 employees were meeting shortly after 10 p.m. and opened fire with a pistol. He then turned the gun on himself.
Here's what we know about the victims.
Oliver O'ConnellNovember 24, 2022 5:30 PM
1669309246
State senator takes GOP's thoughts and prayers from 'mouth service'
A Democratic state senator in Virginia took issue with her Republican enemies during an interview with TUSEN Wednesday morning after a deadly shooting broke out late Tuesday night at a Walmart in her state.
Oliver O'ConnellNovember 24, 2022 5:00 PM
1669308655
Biden asked about the spate of mass shootings
At a Thanksgiving gathering with firefighters on Nantucket Island, President Joe Biden briefly answered some questions from reporters, including about the recent spate of mass shootings.
"The idea that we're not enforcing red flag laws … is ridiculous," Biden said.
"The idea that we are still allowing semi-automatic weapons to be bought is sick. Just sick. It has no, no social redemptive value. Zero. No. There is no reason for it except profit for the arms manufacturers," the president continued.
When asked if there's anything he can do about gun laws during the lame duck period of his presidency, he replied, "I'm going to try."
Biden added, "I'm going to try to get rid of assault weapons."
The president brushed aside the timing of such a move, given his weakened position with the upcoming Republican-controlled House entering session in January: "I'm going to do it when — I'll have to make that assessment when I get in and start counting votes." .
Oliver O'ConnellNovember 24, 2022 4:50 PM